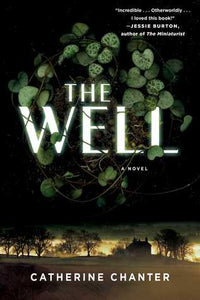 The Well (Used Book) - Catherine Chanter
Ruth Ardingly has just been released from prison to serve out a sentence of house arrest for arson and suspected murder at her farm, The Well. Beyond its borders, some people whisper she is a witch; others a messiah. For as soon as Ruth returns to The Well, rain begins to fall on the farm. And it has not rained anywhere else in the country in over three years.

Ruth and her husband Mark had moved years before from London to this ancient idyll in the hopes of starting their lives over. But then the drought began, and as the surrounding land dried up and died, and The Well grew lush and full of life, they came to see their fortune would come at a price. From the envy of their neighbors to the mandates of the government, from the fanaticism of a religious order called the Sisters of the Rose to the everyday difficulties of staying close as husband and wife, mother and child; all these forces led to a horrifying crime: the death of their seven-year-old grandson, drowned with cruel irony in one of the few ponds left in the countryside.

Now back at The Well, Ruth must piece together the tragedy that shattered her marriage, her family, and her dream. For she believes her grandson's death was no accident, and that the murderer is among the people she trusted most. Alone except for her guards on a tiny green jewel in a world rapidly turning to dust, Ruth begins to confront her worst fears and learns what really happened in the dark heart of The Well.
Hardcover
0920SR
---