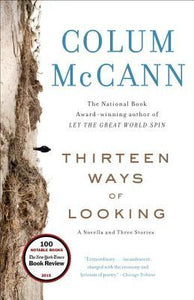 Thirteen Ways of Looking (Used Paperback) - Colum McCann
NAMED ONE OF THE TEN BEST BOOKS OF THE YEAR BY" CHICAGO TRIBUNE "AND ONE OF THE BEST BOOKS OF THE YEAR BY "The New York Times Book Review "NPR "Los Angeles Times The Boston Globe The Seattle Times The Independent"
In such acclaimed novels as "Let the Great World Spin" and "TransAtlantic, "National Book Award winning author Colum McCann has transfixed readers with his precision, tenderness, and authority. Now, in his first collection of short fiction in more than a decade, McCann charts the territory of chance, and the profound and intimate consequences of even our smallest moments.
" As it was, it was like being set down in the best of poems, carried into a cold landscape, blindfolded, turned around, unblindfolded, forced, then, to invent new ways of seeing. "
In the exuberant title novella, a retired judge reflects on his life s work, unaware as he goes about his daily routines that this particular morning will be his last. In Sh khol, a mother spending Christmas alone with her son confronts the unthinkable when he disappears while swimming off the coast near their home in Ireland. In Treaty, an elderly nun catches a snippet of a news report in which it is revealed that the man who once kidnapped and brutalized her is alive, masquerading as an agent of peace. And in What Time Is It Now, Where You Are? a writer constructs a story about a Marine in Afghanistan calling home on New Year s Eve.
Deeply personal, subtly subversive, at times harrowing, and indeed funny, yet also full of comfort, "Thirteen Ways of Looking" is a striking achievement. With unsurpassed empathy for his characters and their inner lives, Colum McCann forges from their stories a profound tribute to our search for meaning and grace. The collection is a rumination on the power of storytelling in a world where language and memory can sometimes falter, but in the end do not fail us, and a contemplation of the healing power of literature.
0711ML
---