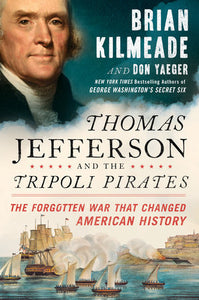 Thomas Jefferson and the Tripoli Pirates: (Used Hardcover) - Brian Kilmeade and Don Yaeger
Brian Kilmeade – cohost of "Fox & Friends" on Fox News and the national radio show "Kilmeade & Friends" – returns with another fascinating historical narrative, co-written with Don Yaeger. Like their acclaimed bestseller George Washington's Secret Six, Thomas Jefferson and the Tripoli Pirates sheds new light on a vitally important episode that has been forgotten by most Americans.
 
Only weeks after President Jefferson's inauguration in 1801, he decided to confront the Tripoli pirates who had been kidnapping American ships and sailors, among other outrageous acts. Though inclined toward diplomacy, Jefferson sent warships to blockade Tripoli and protect American shipping, and then escalated to all-out war against the Barbary states.
Thomas Jefferson and the Tripoli Pirates tells a dramatic story of bravery, diplomacy, and battle on the high seas, and honors some of America's forgotten heroes. 
0913WS
---