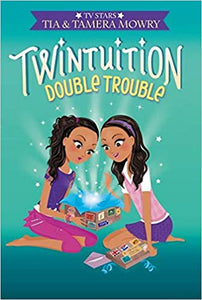 Twintuition Double Trouble (Used Paperback) - Tia & Tamera Mowry
From actresses Tia and Tamera Mowry comes Double Trouble, the second book in their Twintuition series about the super-special—and sometimes supernatural—bond between sisters!
Identical twins Cassie and Caitlyn Waters have adjusted to small-town life, but they're still not used to seeing visions of the future. When a troubling and mysterious package arrives with a connection to the father they've never known and the grandmother they never knew they had, the twins distract themselves by planning a birthday bash with their new friends. But when the visions of the upcoming party show it will be more of a catastrophe than a celebration, the girls have to work together to keep it fiasco-free. 
0616CM
---