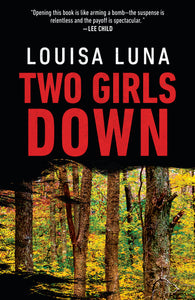 Two Girls Down (Used Paperback) - Louisa Luna
When two young sisters disappear from a strip mall parking lot in a small Pennsylvania town, their devastated mother hires an enigmatic bounty hunter, Alice Vega, to help find the girls. Immediately shut out by a local police department already stretched thin by budget cuts and the growing OxyContin and meth epidemic, Vega enlists the help of a disgraced former cop, Max Caplan. Cap is a man trying to put the scandal of his past behind him and move on, but Vega needs his help to find the girls, and she will not be denied.

With little to go on, Vega and Cap will go to extraordinary lengths to untangle a dangerous web of lies, false leads, and complex relationships to find the girls before time runs out, and they are gone forever.
0912SR
---