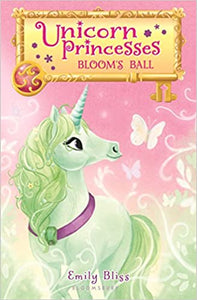 Unicorn Princesses Bloom's Ball (Used Paperback) - Emily Bliss
Welcome to an enchanted land ruled by unicorn princesses!
Cressida Jenkins, a unicorn-obsessed girl who is sure that unicorns are real, is invited to visit, and readers will be thrilled to journey to the Rainbow Realm along with her! In each story, Cressida is called to help a unicorn princess and her sisters in a magical adventure.

In the third installment, Princess Bloom is busy preparing for her birthday party in the Magic Garden. When Cressida comes to help Bloom set up the final touches, they find a flock of quails destroying all the decorations. Bloom is devastated--her hard work is ruined! Can Cressida find a way to save the party? One thing is certain--she'll need everyone's help to do it!

This sweet series is full of sparkle, fun, and friendship.
0615CM

---