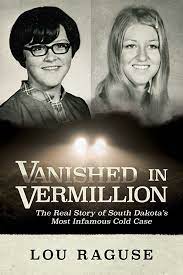 Vanished in Vermillion: The Real Story of South Dakota's Most Infamous Cold Case (Used Paperback) - Lou Raguse
The result of hundreds of interviews, Vanished in Vermillion is a cold case story that flips the script on a typical investigation narrative, revealing the biggest law enforcement embarrassment in South Dakota history.

In May 1971, Pam Jackson and Sherri Miller were two seventeen-year-olds driving to an end-of-the-school-year party in a rundown Studebaker Lark when they seemingly disappeared off the face of the earth. Police back then didn't do enough to try and find them. Investigators thirty years later did too much. Two families endure decades of pain as they await answers of what happened to their girls. When a third family is pulled into the mystery, they quickly learn their nightmare is just beginning.
1017MMK
---