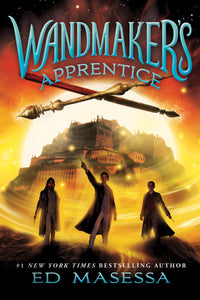 Wandmaker's Apprentice (Used Paperback) -Ed Masessa
Henry Leach the Eighth and his sister, Brianna, have survived a faulty spell, defeated a wicked spellcaster, and saved the world . . . but their greatest accomplishment might be convincing Grand Wand Master Coralis to take them on as official apprentices.


For the first time in centuries, the reclusive Wand Master has opened the doors to his castle and invited a new generation of Wandmakers to learn the secrets of the craft. But danger lurks around every corner in a world of magic, curses, and fantastical beasts. And the greatest threat of all may come from within the Wandmakers' own ranks.


Perfect for fans of Harry Potter and Charlie Bone, the Wandmaker series puts a humorous spin on magical coming-of-age stories.
0616CM
---